Student designs animal safe haven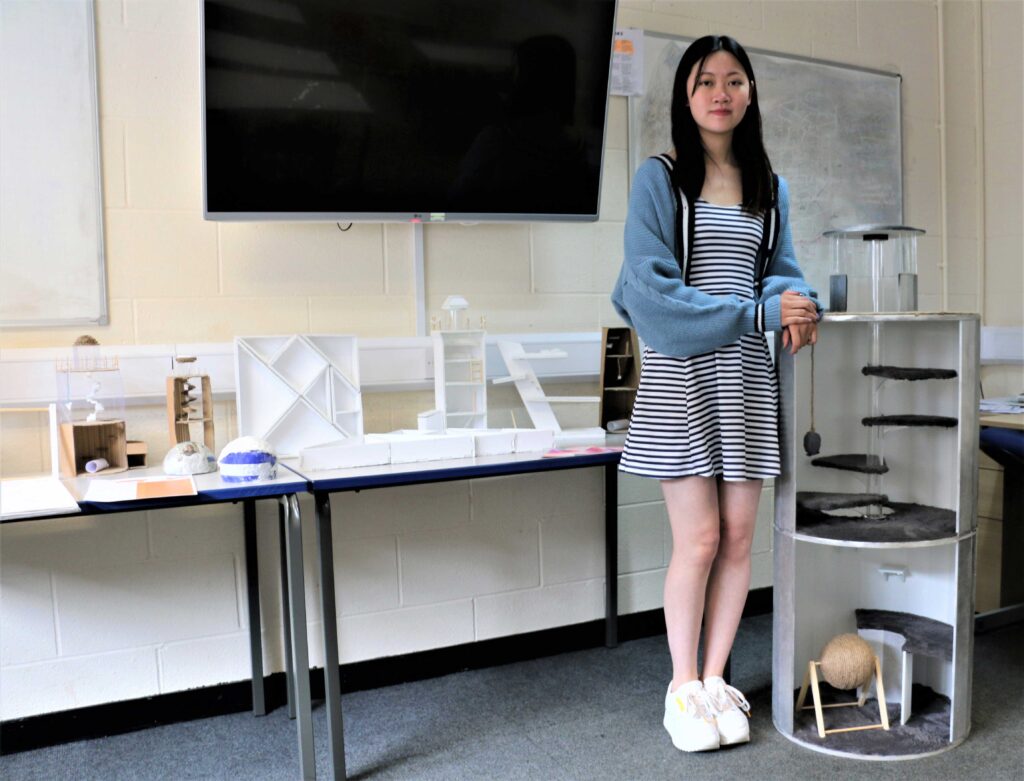 No matter who we are, or how confident we are in our surroundings, even small changes to our routine can make us feel anxious. The same is true of our animal companions and, with many pets experiencing anxiety due to lockdown, Design & Technology student Jessie used this as the basis for her A Level coursework.
The Year 13 student, who has been studying DT throughout her time at Bridgewater and plans to study architecture at university, has spent the two years of her A Level studies researching anxious animals, particularly those that were affected by the lockdown when their owners were in the house for extended periods of time before returning suddenly to their place of work. This separation left cats feeling very distressed and anxious and their resulting behaviour causing damage to furniture and upholstery.
Through much research, design and testing, Jessie created the concept of a cat tower, which would provide a safe and relaxing place for cats to go to or hide in. With size and decor a consideration for homeowners, the cat tower was developed to be suitable for positioning in a living room or kitchen as it features a neutral colour scheme to match the majority of home environments.
Miss Reynolds, teacher of Design & Technology at Bridgewater School says: "Jessie spent many hours cutting, sanding, joining and painting in order to get the high quality finish she wanted. She has carefully created each component and put the structure together by hand, with the finished piece to be used in her own home for her two new kittens. Both Jessie and I are very pleased with the final outcome and she achieved exceptionally high marks for both her cat tower and the sketchbook work that goes alongside this."