Seniors shine at Salford Childrens Book Awards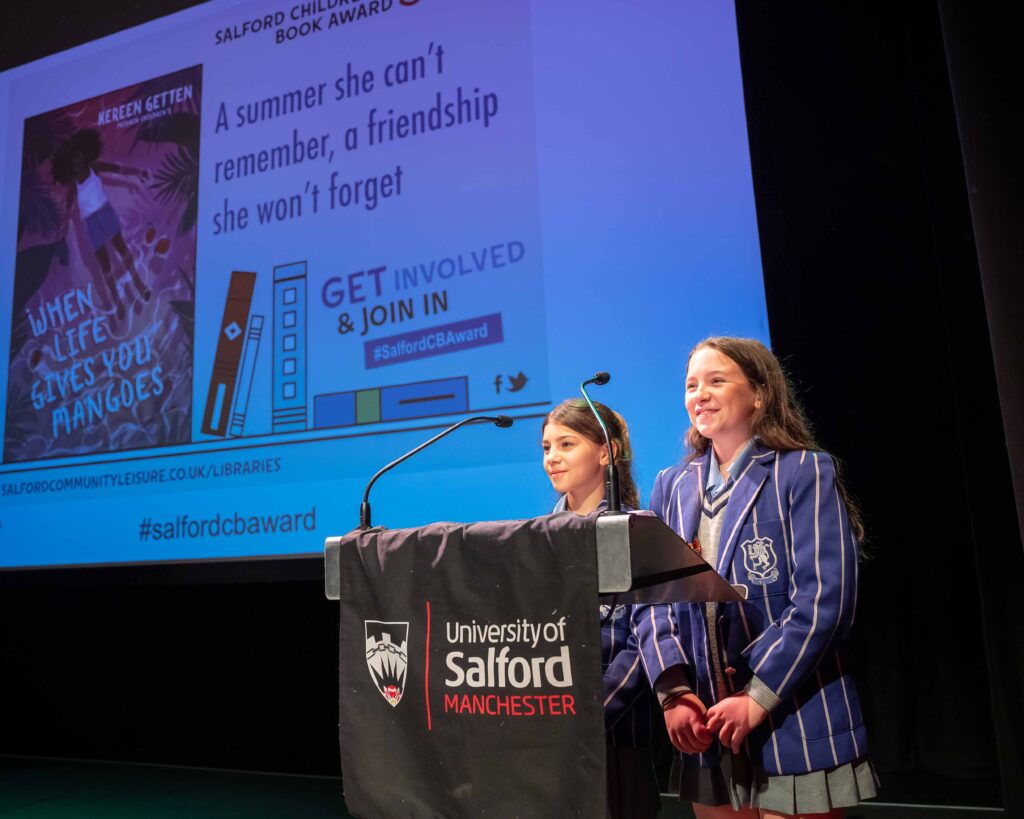 Extra-curricular interests and activities can open up a new world of possibilities and this year members of our Reading Club were invited to attend the 2022 Salford Children's Book Club Award Ceremony.
The annual event, which took place at the University of Salford, gave students the opportunity to meet the authors of the books they have been reading since January and find out on the day which author won the coveted award.
The winning title by Kereen Getten 'When Life Gives You Mangoes' was a favourite with Bridgewater pupils and members of our literary group were thrilled to present their own thoughts on the book:
'When Life Gives You Mangoes' by Kereen Getten.

How would you feel if you knew something important had happened to you and you couldn't even remember it? How would you feel if everyone around you knows what this thing is but you don't? And how would you feel if everything you thought you knew turned out to be your imagination?

This is what life is like for Clara, the main character in 'When Life Gives You Mangoes', who calls herself 'the girl who remembers nothing.'

The novel, by Kareen Getten, is set in a place called Sycamore, a small village on a Caribbean island where the main character, Clara, lives with her parents in a house that overlooks the ocean. Nothing much ever happens in Sycamore. Except for the previous summer, when something happened after a hurricane hit. Something that made Clara forget everything, leaving her feeling different and confused, unable to express herself and follow her dreams.

As Clara says at one point in the novel: "I can't tell her what I really want to do. If I tell her the truth, that I want to surf all over the world, she will want to know why I no longer surf, and I don't know why. I just know I am afraid of water now."

The title of the book links to a place in the story called the 'dugout', a secret hideout behind Clara's house. Only Clara and her best friend, Gaynah, know about the hideout, and use it to hide away and eat the ripe mangoes that fall from the trees outside Clara's house. Recently, however, Clara has been spending more and more in the dugout alone, since things have changed between her and Gaynah – lately Gaynah has not been acting like a best friend.

Clara's loneliness and confusion changes when a new girl called Rudy arrives on the island from London. Rudy is outgoing, quirky and magnetic and brings the buzz of the big city with her to the island. As the novel progresses, the two girls form a friendship that will help Clara, along with the love and support of her family, begin to remember what happened to her last summer.

As well as the mysteries about what happened last summer, there are other unanswered questions in the village of Sycamore. Such as those surrounding Eldorath, Clara's uncle who lives in a big house on the hill. Clara has been forbidden to ever visit her uncle Eldorath's house. That is because of the rumours about Eldorath in the village – a man who is said to see ghosts, a man who is said to be a witch doctor.

'When Life Gives you Mangoes' is a really interesting book as it provides the reader with an insight into Caribbean life, and is based on the place where the author was born and grew up. It is a book about heartbreak, friendship and overcoming adversity, and at the end of the novel, Clara does just that.

Our favourite part in the novel is when Rudy convinces Clara to visit Eldorath's house. This visit starts the beginning of Clara's relationship with her uncle – a relationship which will finally help her understand what she is going through.