Residential adventure at Condover Hall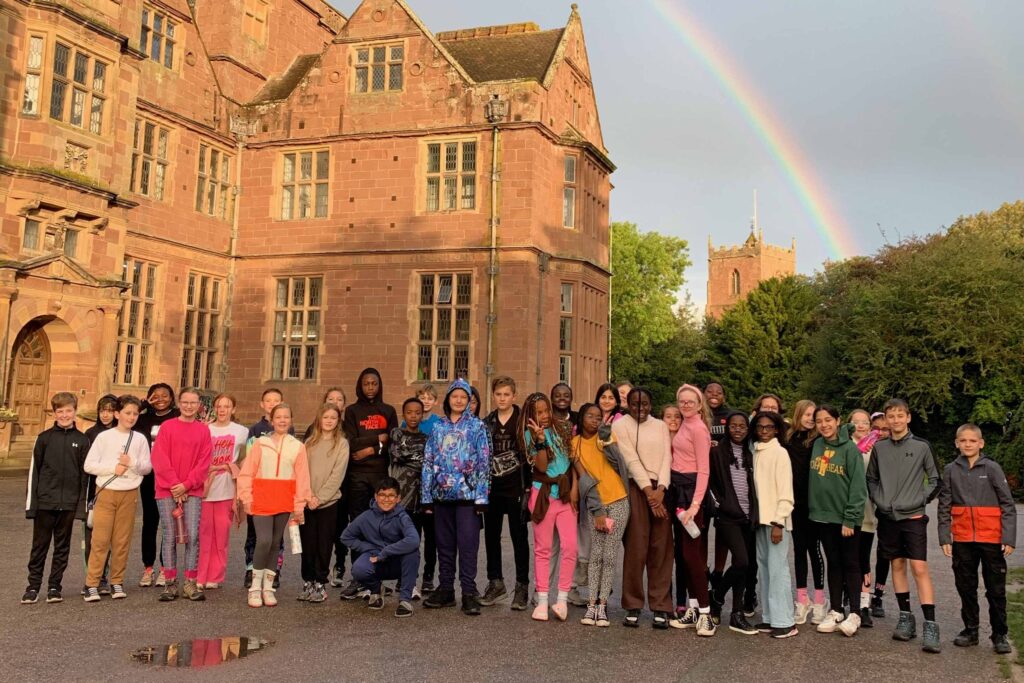 Our Year 7 students recently embarked on a three-day residential trip to Condover Hall, a journey filled with adventure, challenges and newfound friendship. The aim of this annual excursion was to foster camaraderie and deepen connections, and it was a resounding success.
The anticipation for this adventure was palpable and the excitement almost tangible. The journey began with a lovely (and very noisy) two-hour coach trip to Shrewsbury in the West Midlands, setting the stage for an unforgettable trip. Over the course of the three days students fully immersed themselves in a range of thrilling activities. These included archery, rock climbing, aerial trek, abseiling, Trapeez and Conquest. What made this experience even more special was that the activity groups mixed students from different tutor groups and primary schools. This set-up encouraged them to learn more about each other and forge new connections as the trip progressed.
Some students emerged as natural leaders, offering support and encouragement to their peers when fear crept in. It was heartening to witness their fearlessness as they leaped from the Trapeez platform or controlled their own abseil from the highest tower. Moreover, the trip provided a perfect setting for students to conquer their fears, such as heights, and step out of their comfort zones.
The adventure did not end with daytime activities. Evening fun added to the sense of collaboration and unity with a talent show, songs around the campfire and an exciting game of giant Cluedo in the Manor House. The long exhilarating days left students exhausted and ready to drift into dreamland, satisfied and fulfilled.
During their stay, students took on responsibilities that promoted independence. They were in charge of making beds, maintaining the tidiness of their dorms, and ensuring they were up and ready in time for breakfast. These tasks encouraged our Year 7s to take ownership and become more self-reliant. Each day, students were treated to nutritious meals that energised them for their adventures, ensuring they had the fuel needed for the day's activities.
The journey was made all the more unforgettable thanks to the dedicated and skilled instructors who guided the students from start to finish, and their expertise, patience and enthusiasm contributed significantly to the students' experience.
As the trip came to a close, each student was presented with a certificate in recognition of their achievements and the memories they created. With hearts full of excitement, they boarded the coach for the quieter journey back home.
The Year 7 Condover Hall trip was truly an adventure to remember, with students forming bonds that will last a lifetime and conquering challenges that will serve as a testament to their resilience. The pastoral team at Bridgewater is immensely proud of these new seniors and cannot wait to see what they will achieve next year.